Check back here for healthy lifestyle recipes!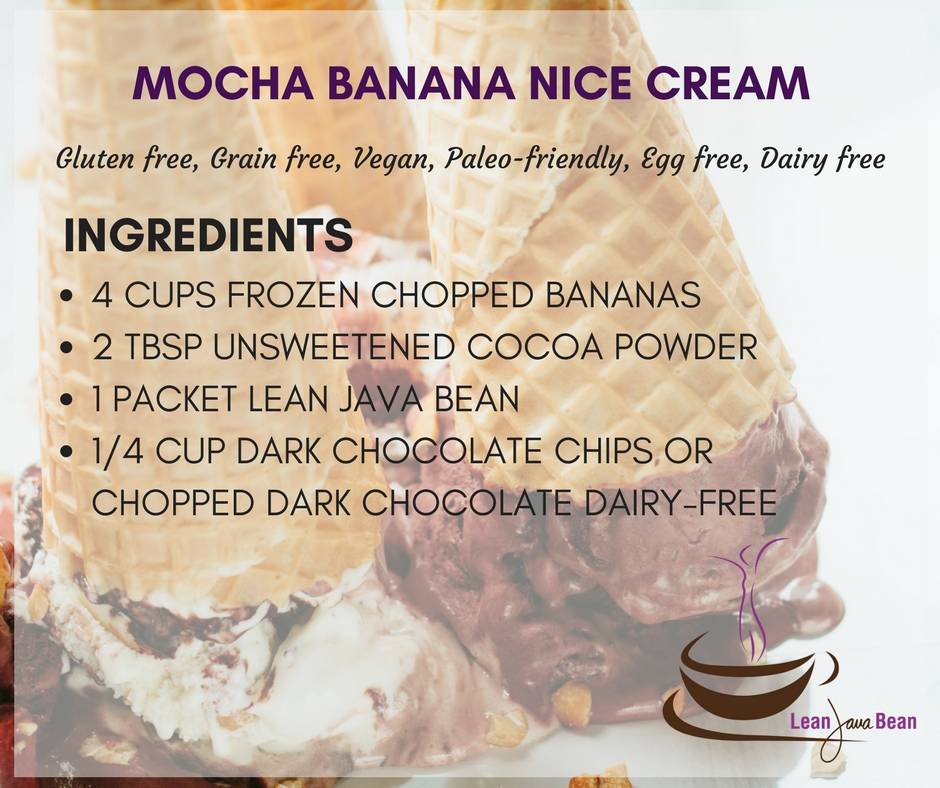 GUILT-FREE BANANA NICE CREAM

INGREDIENTS

4 CUPS FROZEN CHOPPED BANANAS
2 TBSP UNSWEETENED COCOA POWDER
1 PACKET LEAN JAVA BEAN
1/4 CUP DARK CHOCOLATE CHIPS OR CHOPPED DARK CHOCOLATE DAIRY-FREE

INSTRUCTIONS

In a heavy duty blender or food processor, blend frozen bananas until smooth and creamy. If necessary, allow bananas to thaw for 5 minutes before blending.
Add coffee and cocoa powder and blend until evenly mixed.
Stir in chocolate chips. Serve immediately or store in an airtight container in the freezer.

NOTES

*Remove peel and roughly chop bananas prior to freezing. Freeze in a single layer on a parchment paper-lined baking sheet, then transfer to a freezer-safe container until you need them for this recipe.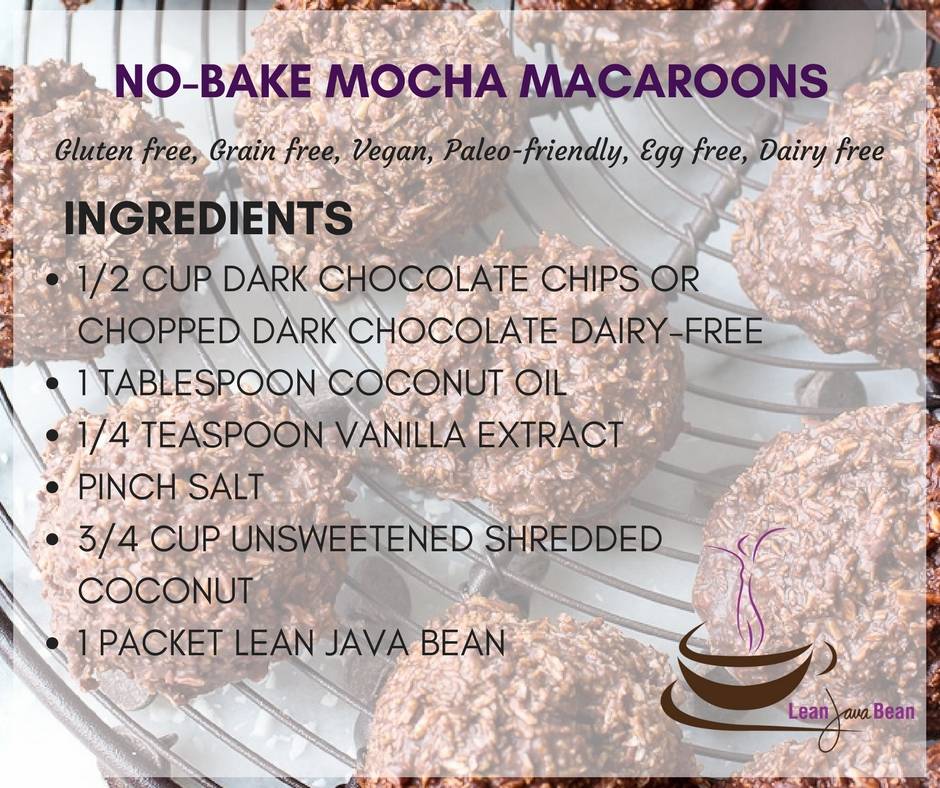 NO- BAKE MOCHA MACAROONS

INSTRUCTIONS

Line a cookie sheet with wax paper, parchment paper or a nonstick pan and set aside.
In a large, microwave-safe bowl, or using a double boiler, melt together the chocolate and coconut oil. Stir until smooth and well-combined.
Stir in the vanilla and salt.
In a separate bowl mix together the shredded coconut & Lean Java Bean until evenly mixed.
Fold in the coconut and Lean Java Bean mixture until well combined.
Scoop 2-3 Tablespoon portions on to the prepared baking pan and transfer to the refrigerator to cool and solidify, about 1-2 hours.

NOTES

Store leftovers in an airtight container at room temperature for up to 5 days, or in the freezer for up to 3 months.
* To make a Keto Version use Keto Chocolate chips, like Lily's Brand

Yield: 9 cookies.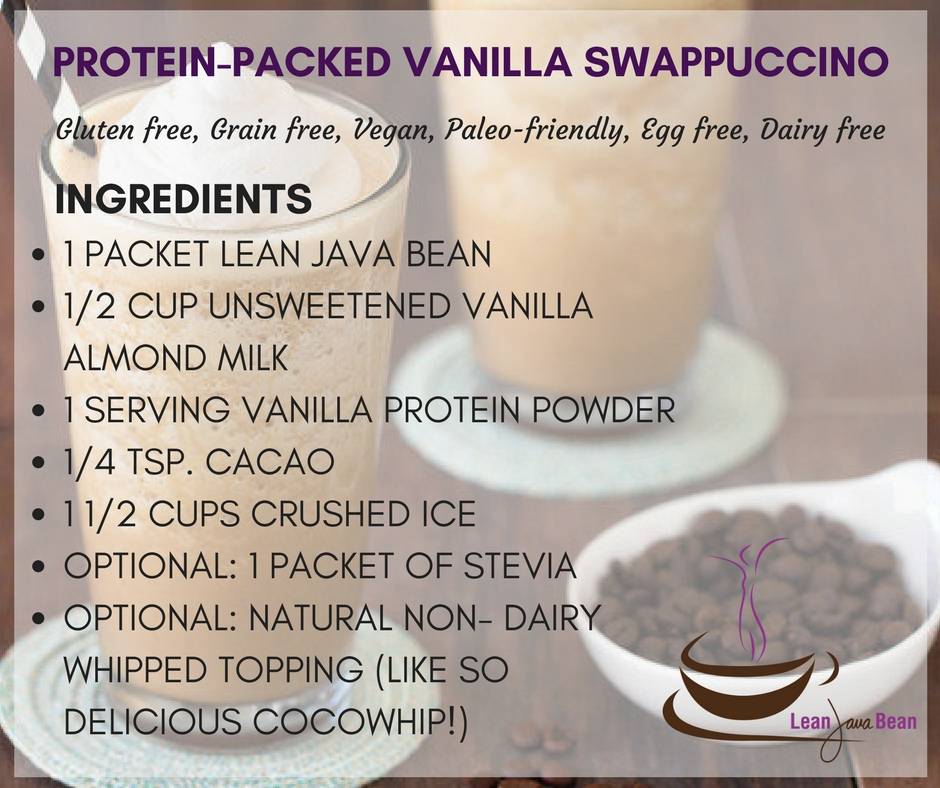 PROTEIN PACKED VANILLA 'SWAPPUCCINO'

INGREDIENTS
1 Packet Lean Java Bean

1/2 cup unsweetened vanilla almond milk

1 Serving ) vanilla protein powder

1/4 tsp. cinnamon

1 1/2 cups crushed ice (about 12 ice cubes)

Optional: 1 natural no-calorie sweetener packet

Optional topping: natural light whipped topping (like So Delicious Cocowhip! Light)

DIRECTIONS
In a tall glass, combine coffee granules with 1/4 cup hot water. Stir to dissolve.

Transfer coffee mixture to a blender, along with remaining ingredients.

Blend at high speed until smooth, stopping and stirring if needed. (The longer you blend it, the bigger and frothier it'll get.)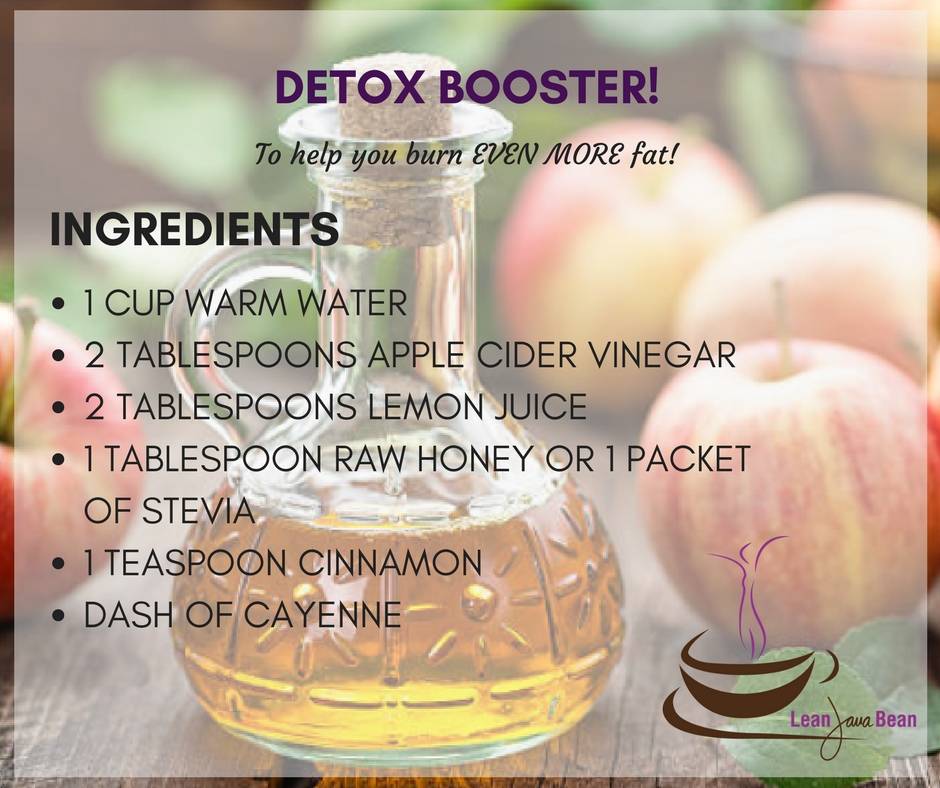 DETOX BOOSTER!

Apple Cider Vinegar has been known to help the body cleanse/detox, balance the body's pH level, and even improve skin tone. Apple cider vinegar is full of vitamins, minerals and enzymes in it's raw form.

Try adding this Apple Cider Vinegar Detox and Metabolism booster to your daily routine along with your daily Lean Java Bean or Xtreme Lean NRG to supercharge your weight loss and health goals!

INGREDIENTS

1 Cup warm water
2 -4 tablespoons apple cider vinegar
2 TABLESPOONS LEMON JUICE
1 tablespoon raw honey or packet of healthy sweetener like stevia or monk fruit
1 teaspoon cinnamon or ginger
Dash of cayenne

DIRECTIONS

Stir Well and drink throughout the day after your cup of Lean Java Bean.